Le loup
Le loup est un animal, mais le terme loup ne correspond pas à un niveau précis de la classification scientifique des espèces. Dans la présente contribution nous nous intéressons au loup dans sa qualité de personnage traditionnel de conte qui apparaît dans plusieurs récits folkloriques.
Parmi les contes les plus anciens les fables d'Esope sont les mieux documentées. Les fables d'Esope relatives au loup sont:
Les fables d'Ésope ont inspiré de nombreux auteurs.
Les contes des frères Grimm (Grimms Märchen) sont un autre exemple de récits qui se focalisent sur le loup: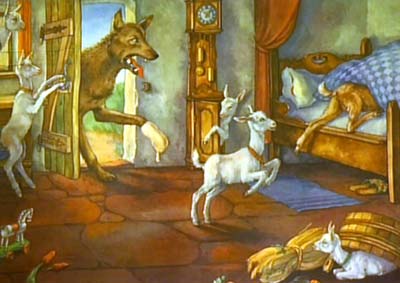 Lors du bicentenaire de la publication des contes des frères Grimm le 20 décembre 2012,  Google a dédié un doodle en hommage aux auteurs.
Grand méchant loup
Dans les contes, le loup est vu comme un personnage cruel. Il est là pour faire peur et terroriser ses futures proies. En effet, il se régale des enfants égarés, des grands-mères, mais aussi des animaux plus faibles que lui. Les contes renforcent la mauvaise image que le loup colportait à l'époque où ils furent écrits, c'est-à-dire entre le XVIIe siècle et le XIXe siècle. Le loup était vu par l'homme comme un prédateur, qui pouvait s'attaquer à l'homme à n'importe quel moment.
C'est pour ces raisons que les termes Grand-méchant Loup ou Grand Loup ont fait leur apparition il y a plus de 100 ans.
Les trois cochons
Les Trois Petits Cochons est un conte traditionnel européen dont les premières versions imprimées datent de 1840, bien que son origine puisse remonter plus loin. Le conte mets en scène trois jeunes cochons et un loup. Les trois petits cochons veulent vivre leur vie et quittent le foyer familial pour tenter leur chance dans le monde. Le premier petit cochon se construit une maison de paille. Le deuxième petit cochon se construit une maison faite de bois. Le troisième petit cochon se construit une maison de briques et de ciment.
Le grand méchant loup parvient à détruire les maisons des deux premiers petits cochons en soufflant dessus et les dévore. En revanche, il est impuissant contre celle du troisième petit cochon.
Pour le faire sortir de sa maison, le loup lui propose d'aller chercher des navets avec lui. Mais le cochon sort tôt le matin et rentre chez lui avec les navets avant l'arrivée du loup. Le loup retente sa chance et propose au cochon d'aller cueillir des pommes. Le cochon part à nouveau avant l'heure, mais ayant eu du mal à grimper à l'arbre, le loup arrive à son tour. Le cochon lance alors une pomme très loin en proposant au loup de la goûter. Pendant que le loup la ramasse, il se sauve. Le loup persévère et propose au cochon d'aller à la foire. Arrivé le premier à la foire, le cochon achète une baratte. Sur le chemin du retour, il voit venir le loup : il se cache alors dans la baratte et dévale la pente, ce qui fait peur au loup.
Ce dernier retourne à la maison du petit cochon et découvre que c'est le petit cochon qui lui a fait peur. En colère, il décide de rentrer par la cheminée pour dévorer le cochon. Mais il tombe dans une marmite de soupe bouillante et le cochon le mange pour son dîner.
Ce récit a été illustré par Leonard Leslie Brooke, un dessinateur et écrivain anglais (1862 – 1940), dans une édition de 1904 The Story of the Three Little Pigs, qui est disponible sur le site web de Project Gutenberg.
Le récit est devenu célèbre grâce aux Studios Walt Disney qui ont fait des trois petits cochons les héros de courts métrages animés de la série Silly Symphonies.
Silly Symphonies
Les Silly Symphonies sont une série de courts métrages animés produits entre 1929 et 1939 par les studios Disney. Quelques personnages récurrents dans cette série sont les Trois Petits Cochons.  C'est d'ailleurs le nom du premier court métrage d'animation (Three Little Pigs) de ces personnages, produit par les studios Disney en 1933. Il est basé sur le conte folklorique Les Trois Petits Cochons et a été réalisé par Burton Gillett.
Les studios concurrents de Disney, Warner Bros., se sont directement inspirés du concept Silly Symphonies de Disney pour créer Looney Tunes et Merrie Melodies.
Three Little Pigs – 1933
Les trois petits cochons Nif-Nif (Fiddler Pig),  Nouf-Nouf (Fifer Pig) et Naf-Naf (Practical Pig) construisent respectivement des maisons de paille, de bois et de briques. Le grand méchant loup détruit en soufflant les deux premières avant de se heurter à la solidité de la troisième dans laquelle se sont réfugiés les trois cochons, il souffle encore jusqu'à en perdre son pantalon. Il tente alors de s'introduire par la cheminée mais Naf-Naf, le plus sage des petits cochons, l'ayant entendu, ajoute de la térébenthine dans une grande marmite d'eau bouillante. Le loup descend et tombe dans la marmite avec l'eau bouillante ; de douleur il crie, saute et s'enfuit dans la forêt, traînant son derrière au sol en hurlant tandis que les petits cochons sauvés rient de cette infortune.
Sur le mur de la maison de pierre on peut apercevoir les portraits de la mère (Mother) et du père (Father) des trois petits cochons, représentant respectivement une truie allaitant sept porcelets et un chapelet de saucisses.
Le film a reçu en 1934 un Oscar pour le meilleur court-métrage d'animation.
The Big Bad Wolf – 1934
Sorti en 1934, le film Le grand méchant loup est la suite des trois petits cochons. Il est basé sur le conte de tradition orale Le Petit Chaperon Rouge. Il a été réalisé également par Buron Gillet. L'histoire est la suivante:
Le petit chaperon rouge rencontre les trois petits cochons sur le chemin la menant à la maison de sa grand-mère. Naf-Naf, le cochon pratique, préfereait prendre le long chemin pour éviter les bois mais le reste de la troupe préfère prendre le raccourci, boisé. Surgi alors le Grand Méchant Loup. Les cochons s'enfuient et abandonnent le petit chaperon rouge. Le loup la poursuit jusqu'à la maison de la grand-mère. Il parvient à les enfermer dans la garde-robe en vue de les manger. Heureusement, le cochon pratique arrive et met du pop-corn et des braises brûlantes dans le pantalon du loup qui s'enfuit en hurlant. La grand-mère et le petit chaperon rouge sont sauvées.
Three Little Wolfes – 1936
La troisième épisode avec les trois cochons a été réalisée en 1936 par David Hand. Le grand méchant loup apprend à ses trois petits loups les bases de leur nourriture et de la cuisine, principalement du cochon.
Dans la famille des caractères de Disney, le Grand Loup est le seul à avoir des enfants, et non des neveux, comme les autres figures.
Du côté des cochons, Naf-Naf finit l'installation du Pacificateur de loup tandis que les deux autres petits cochons jouent à crier au loup sur leur frère. Mais le loup arrive déguisé, capture les deux joueurs et les enferme dans sa maison.
Finalement Naf-Naf va au secours de ses frères et réussit à introduire le loup dans la machine de pacification où il est maltraité.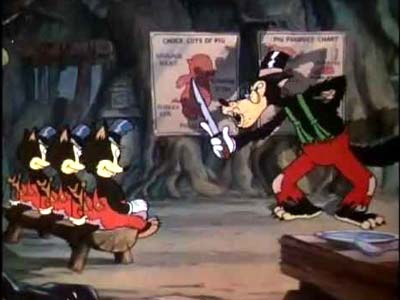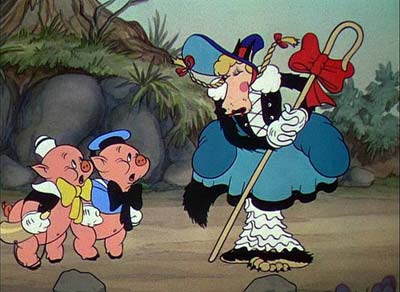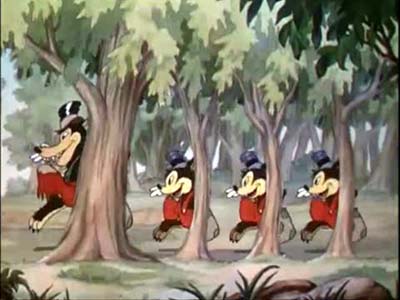 The Practical Pig – 1939
Le Cochon Pratique est la dernière épisode des Silly Symphonies avec les trois cochons; elle a été réalisée en 1939 par Dick Rickard.
Le loup se déguise en sirène pour attraper Nif-Nif et Nouf-Nouf lors d'une baignade. Il les mène à la maison où les louveteaux attendent avec impatience le déjeuner. Le loup veut partir d'abord chercher Naf-Naf et il commande à ses enfants de ne pas commencer à manger avant son retour. Malgré ces instructions, les jeunes loups commencent à préparer un plat avec les deux cochons qui leur rappellent qu'il faut obéir à son père.
Le loup se déguise en facteur des postes et fournit un faux message à Naf-Naf qui réussit à l'introduire dans un détecteur de mensonges. Nif-Nif et Nouf-Nouf arrivent à s'échapper et à retourner à la maison de Naf-Naf, le cochon pratique. A la fin le loup est lancé avec une fusée dans les nuages.
The Thrifty Pig – 1941
The Thrifty Pig (le cochon économe) est le premier court métrage d'animation américain réalisé par Walt Disney Productions en coopération avec le Department of National Defense et l'Office National du Film du Canada, sorti aux États-Unis et au Canada le 19 novembre 1941.
Il s'agit d'un remake de la Silly Symphony des Trois Petits Cochons (1933) avec le Grand Méchant Loup, devenu nazi essayant (mais échouant) de détruire la maison qu'un des cochons a construit avec les bons de guerre canadiens.
Le réalisateur a été Ford Beebe.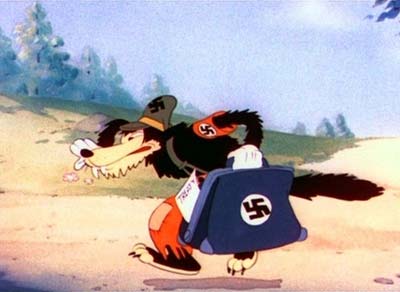 Blitz Wolf – 1942
Der Gross méchant loup est un autre film de propagande anti-nazi de la Seconde Guerre mondiale parodiant Adolf Hitler. Sorti en août 1942, ce court-métrage d'animation américain fut réalisé par Tex Avery et produit par Fred Quimby, directeur de la branche animation de la Metro-Goldwyn-Mayer.
Dans ce dessin animé, les cochons partent en guerre contre Adolf le Loup qui menace d'envahir Pigmania (Cochonland).  Les deux cochons qui construisent leurs maisons en paille et en bois déclarent qu'ils n'ont pas besoin de prendre des précautions contre le loup puisqu'ils ont signé un Pacte de non-agression avec lui. Le cochon qui construit sa maison en pierre, le Sergent Pur Porc (Sergeant Pork) prend ses précautions et renforce sa maison avec un puissant dispositif de défense composé de barbelés, de bunkers, d'obusiers et de tranchées.
Adolf le Loup envahit Cochonland, malgré les deux cochons lui rappelant qu'il a signé un traité avec eux. Il détruit leurs maisons jusqu'à ce que les cochons se replient sur la maison du Sergent Pur Porc. C'est alors que débute la bataille entre le loup et les cochons. À la fin du cartoon, Adolf le Loup est éjecté hors de son bombardier par les obus remplis d'obligation de guerre des cochons et chute vers le sol où une bombe qui explose l'envoie en enfer.
Le film fut nommé dans la catégorie Oscar du meilleur court-métrage d'animation en 1942.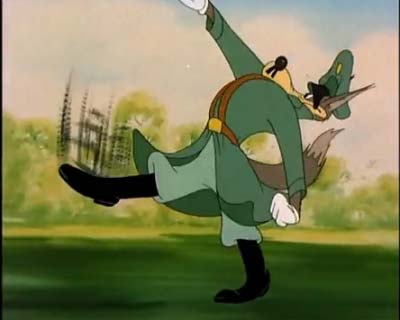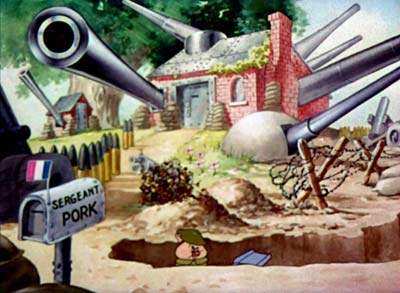 Pigs in a Polka – 1943
La Polka des pourceaux est un film américain réalisé par Friz Freleng, sorti en 1943 et ressorti en tant que cartoon Blue Ribbon en 1948. Il est dans le domaine public.
Ce cartoon Merrie Melodies met en scène les trois petits cochons et le grand méchant loup sur les danses hongroises de Johannes Brahms. Le film a été nommé pour un Oscar du meilleur court métrage d'animation en 1943.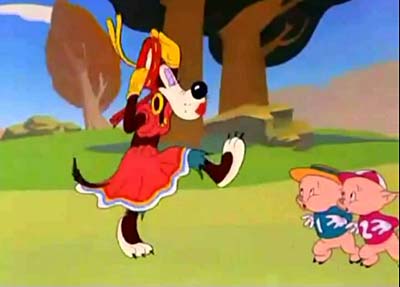 Peter and the Wolf -1946
Pierre et le Loup est un conte musical pour enfants, dont le compositeur russe Sergueï Prokofiev (1891 – 1953) a écrit le texte et composé la musique en 1936, année de son retour définitif en URSS.
Pierre, un jeune garçon, vit dans la campagne russe avec son grand-père. Un jour, il laisse la porte du jardin ouverte : un canard profite de l'occasion pour aller nager dans la mare toute proche. Il se querelle avec un oiseau. À ce moment, un chat s'approche; l'oiseau, alerté par Pierre, s'envole pour se réfugier dans un arbre.
Le grand-père de Pierre ramène le garçon à la maison en bougonnant et referme la porte, car le loup pourrait surgir. Pierre attend que son grand père s'endorme pour aller chasser le loup, Le chat monte se réfugier dans l'arbre pendant que le canard, qui, tout excité, était sorti de la mare, se fait avaler par le loup.
Pierre prend une corde et, en escaladant le mur du jardin, grimpe dans l'arbre. L'oiseau décide d'aller voltiger autour de la tête du loup pour détourner son attention. Pendant ce temps, Pierre forme un nœud coulant avec lequel il parvient à attraper le loup par la queue.
Les chasseurs sortent de la forêt. L'oiseau dit aux chasseurs qu'il y avait le loup dans la forêt et ces derniers vont aider Pierre. Mais Pierre les arrête car il a attrapé le loup. Tous ensemble entament une marche triomphale pour emmener le loup au zoo. Ils organisent une grande fête.
En 1946, les studios Disney se sont basés sur cette oeuvre pour en faire un court-métrage d'animation Pierre et le Loup, dans une séquence du film La Boîte à Musique. Le réalisateur a été Clyde Geronimi.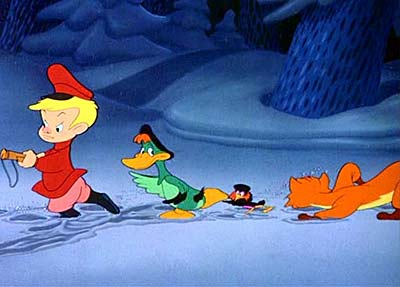 Père Castor et les cochons – 1993
Le Père Castor est une collection de l'éditeur Flammarion qui publie depuis 1931 des ouvrages pour les enfants de 1 à 10 ans. Père Castor ne laisse jamais passer une occasion de raconter une histoire à ses trois enfants, Câline, Grignote et Benjamin. Il les laisse ensuite en tirer leurs propres conclusions.
Le Père Castor a inspiré une série télévisée d'animation en 156 épisodes de 6 minutes, intitulé Les Belles Histoires du père Castor, réalisée par J. Cubaud et P. Moreaux. La première diffusion a lieu en 1993 sur France 3 et Canal J. Elle est rediffusée sur France 5 dans Zouzous depuis l'année 2011.
Les histoires suivantes se réfèrent à des cochons :
7: L'Extravagant désir de Cochon Rose
57: Les Trois Petits Cochons
77: Deux Petits Cochons trop cochons
99: Le Petit Cochon trop gourmand
141: La Poule, le Coq, le Cochon
Les trois petits cochons s'amusent – 1989
Basé sur le court métrage Les Trois Petits Cochons de la série des Silly Symphonies, les trois petits cochons s'amusent est un jeu vidéo d'aventure développé et édité par Coktel Vision, sorti en 1989 sur Amiga et Atari ST.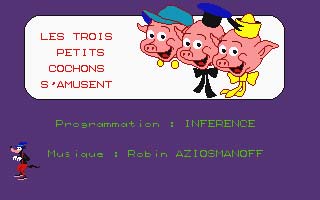 Caméos du Grand Méchant Loup
Un caméo dans le monde du théâtre et du cinéma est l'apparition fugace d'une personnalité déjà célèbre. C'est avant tout un clin d'œil, c'est pourquoi il n'est généralement pas crédité. Il est bref et souvent anecdotique, car il n'influe généralement pas sur le cours de l'histoire. Il peut être ouvertement montré, ou bien décelable par les seuls spectateurs avertis.
Le Grand Méchant Loup apparaît souvent dans des caméos. Une scène bien connue est la bande d'annonce de la série  Micky Mouse Club, lancé en 1995, où les trois petits cochons traînent le loup, attaché avec une corde, dans la grande parade.
Liens