Links
1. Market share of mobile operating systems worldwide 2012-2020
Published by S. O'Dea, Aug 17, 2020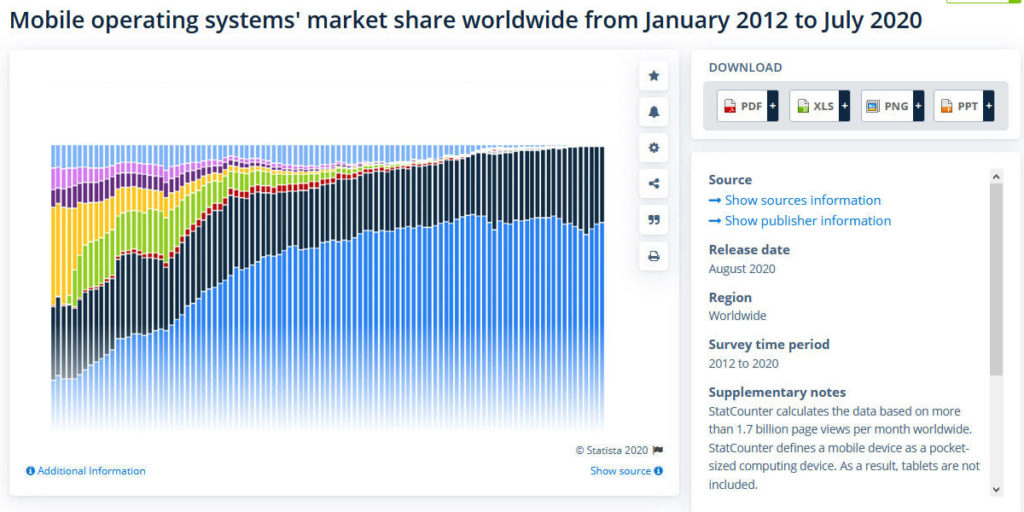 Android maintained its position as the leading mobile operating system worldwide in July 2020, controlling the mobile OS market with a 74.6 percent share. Google Android and Apple iOS jointly possess almost 99 percent of the global market share.
The leading mobile operating systems
Both unveiled in 2007, Google Android and Apple iOS have advanced their software over the years and provide regular updates to their operating systems. Google previously named its Android versions after sweet and candy items – their ninth operating system was called Pie and used by more than 10 percent of Android mobile users worldwide. However, in a break from tradition, Google's latest release is simply called Android 10. In September 2018, Apple released the twelfth version of its operating system (iOS 12) and it was running on 88 percent of Apple mobile devices as of August 2019. In the fall of 2019, Apple released iOS 13 along with iPadOS – a new mobile operating system developed specifically for iPads.
---
The rise of the smartphone
From around 2010, the touchscreen smartphone revolution had a major impact on sales of basic feature phones, as the sales of smartphones increased from 139 million units in 2008 to 1.56 billion units in 2018. Apple and Samsung were the big winners in this shift towards smartphones; BlackBerry and Nokia were among the losers. Nokia's focus on hardware rather than software specifications is one reason their net sales fell by around 30 billion euros in just three years.
2. Android OS platform version market share 2013-2020
Published by Shanhong Liu, Jul 6, 2020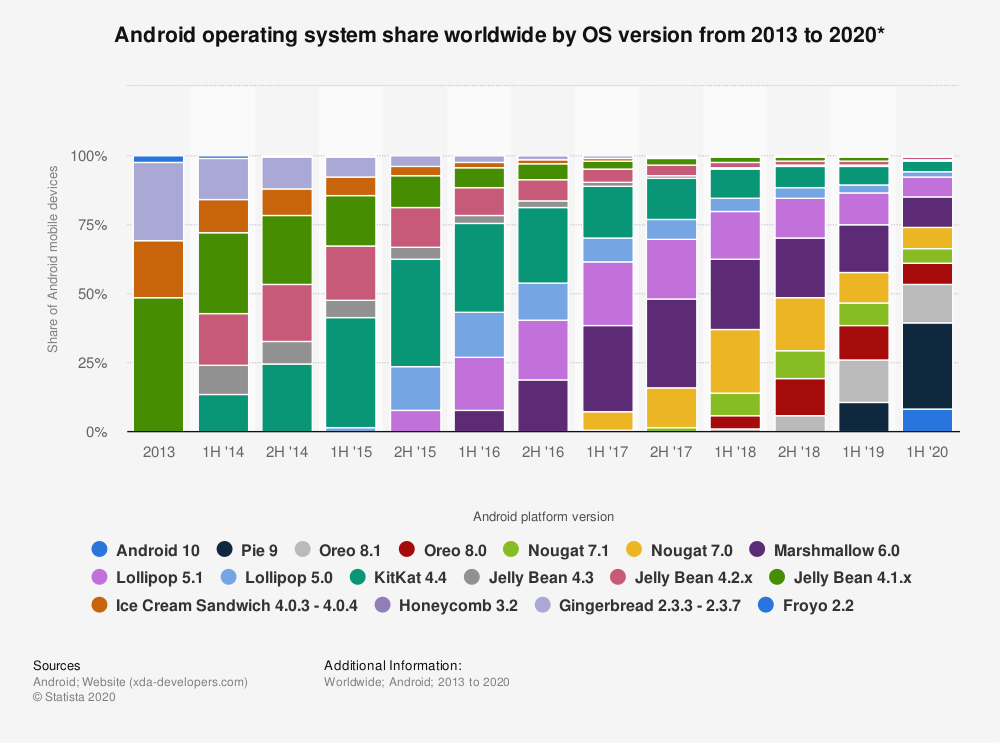 Pie 9.0 was the most popular version of Android operating system as of April 2020, with a market share of 31.3 percent. Despite being released in the fall of 2015, Marshmallow 6.0 was still the second most widely used version of Android's operating system on smartphone devices as of then. Developers Google previously named its Android versions after items of confectionery, but in a break from tradition the latest release in September 2019 is simply called Android 10, which had a share of 8.3 percent seven months after its release.
Why are older Android versions still being used?
It is considered good practice to install the latest version of software on to your smartphone for security reasons, but Android updates vary by device, manufacturer, and mobile carrier. It is also true that older devices cannot always run newer Android versions. Around 60 percent of Android devices are running a mobile operating system that is over two years old. In comparison, 81 percent of iPhone devices are running on the latest version of iOS.
Unlocking the code to Android's success
Android is the mobile operating systems' market leader worldwide. Since its initial unveiling in 2007, the platform has pursued a commitment to openness – its source code is freely available which allows smartphone manufacturers to install the software without having to pay a license. This reduction in costs allows vendors to make their devices cheaper than the competition. The average selling price of an Android smartphone worldwide was around 200 U.S. dollars in 2018 – more than 400 U.S. dollars cheaper than an iPhone.
---
3. Global market share smartphone operating systems of unit shipments 2014-2023
Published by S. O'Dea, Feb 28, 2020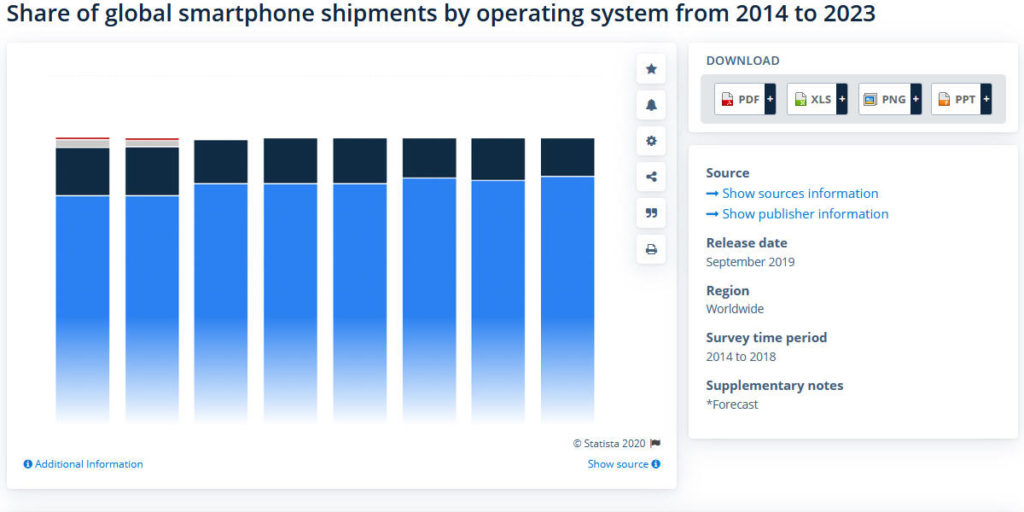 Smartphones running the Android operating system hold an 87 percent share of the global market in 2019 and this is expected to increase over the forthcoming years. The mobile operating system developed by Apple (iOS) has a 13 percent share of the market.
How Android became the market leader
Android's global success can in many ways be attributed to its open-source software that can be installed on all smartphone devices for free. Developed by Google, the open code provides manufacturers the freedom to choose which apps are pre-installed on their devices, and they can customize layouts to create unique experiences for users. The first commercial version of the Android software was released in 2008 and its rise to market leader was almost instant. The platform held a four percent share of the global operating systems' market in 2009, but this figure increased by around 20 percent each year for the next three years.
Annual sales of smartphones have increased to around 1.56 billion units worldwide. They are now available to everyone and not just those with wealth. The cost of buying a smartphone has continued to fall each year, with the global average price now being around 215 U.S. dollars. Fierce competition within the smartphone market could be one reason why prices are falling. Samsung (South Korea) and Apple (U.S.) have historically held large shares of global smartphone production, but Chinese brands Huawei, Xiaomi, Oppo, and Vivo are now offering alternative devices that are proving popular worldwide.
---
Are laptops included in the desktop platform?
Yes. Laptops and desktop machines are included in the desktop platform together. We use the browser useragent to determine the platform and there is not enough information contained in the useragent to distinguish between laptops and desktops. That is why we do not have a separate laptop platform.